THREE GOOD THINGS
Simple, fuss-free gratitude journal that respects your privacy
Remember the bright side of life ✨
The story (and research) behind this app:
When studying at Duke University, one of our founders started experiencing symptoms of depression. As an alternative to medication, a counsellor told her about some incredible research the university had recently done.
Dr. Bryan Sexton, associate professor in psychiatry and behavioral sciences at Duke's School of Medicine, found that simply listing three good things each day in a particular way increased happiness more effectively than Prozac! Participants were asked to:
List 3 good things that happened that day, noting their active role in the events (e.g. "I saw a pretty sunset today" rather than just writing "There was a pretty sunset").

Describe the emotion felt in each positive moment.
Results:
Increased feeling of well-being.

Improved sleep quality—when done within 2 hours of bedtime.

Greater mental resilience.
Learn more the research that inspired this app here.
We respect your privacy:
Given the personal nature of your daily highlights, we do not store any of your data. You will NEVER be asked to log-in or register to use any of our apps.
Gratitude can be fun & rewarding 😃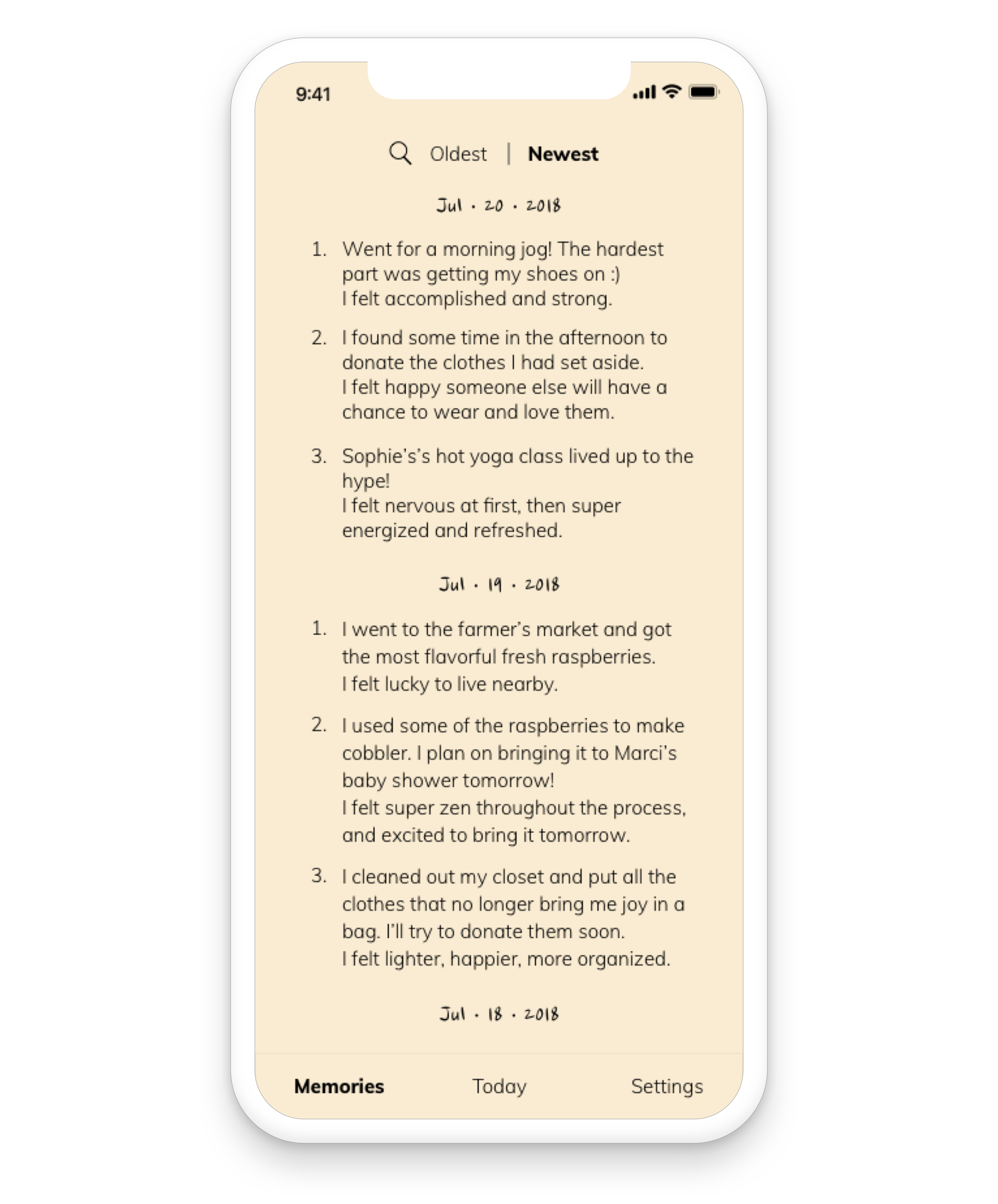 Look back on your memories
Scroll through your Memories tab on rainy days. 🍵
Cherish all the things you got to experience.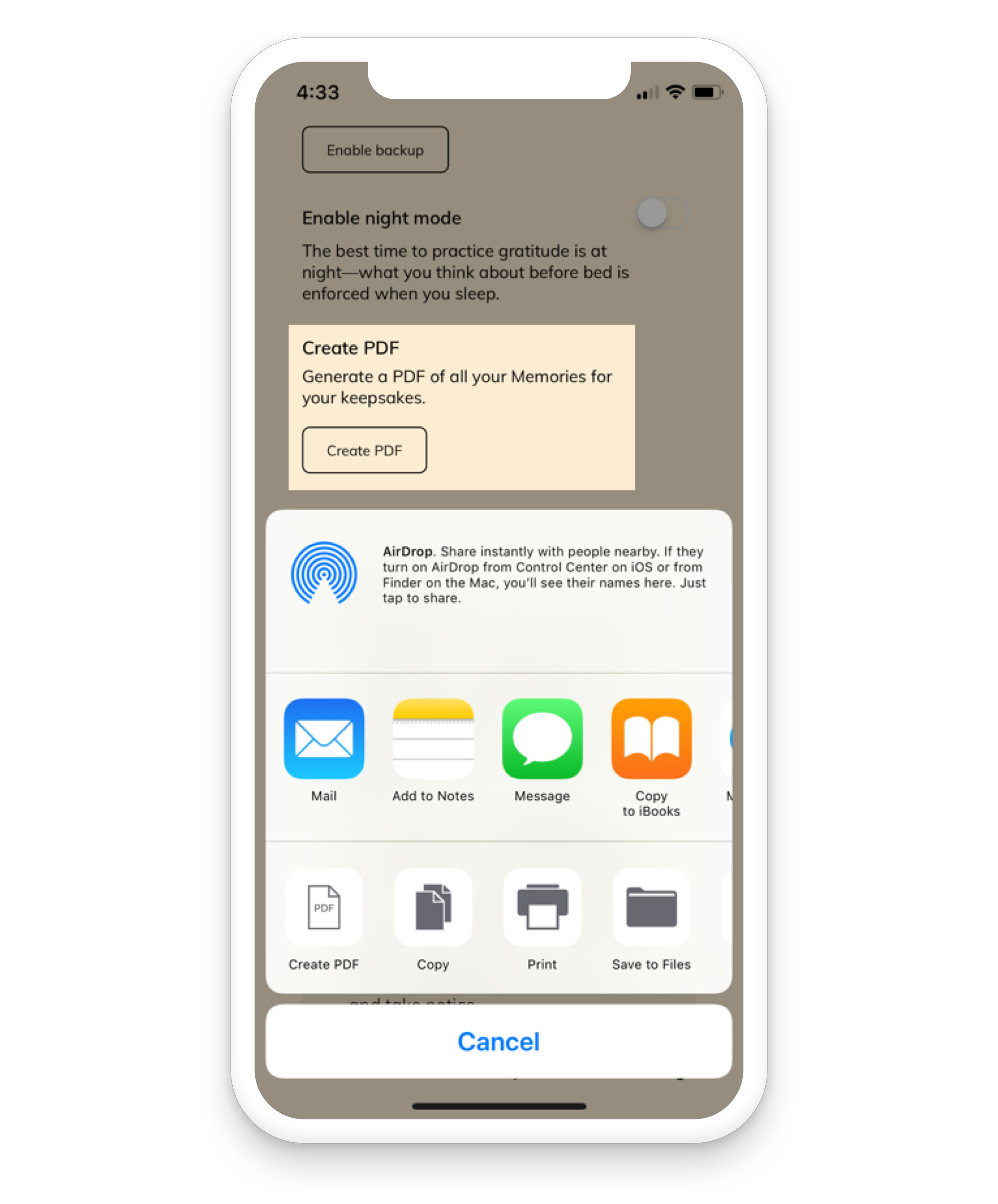 Instantly generate a PDF of all your Memories. Email it to yourself, save it to your device, or print it out. 🗒️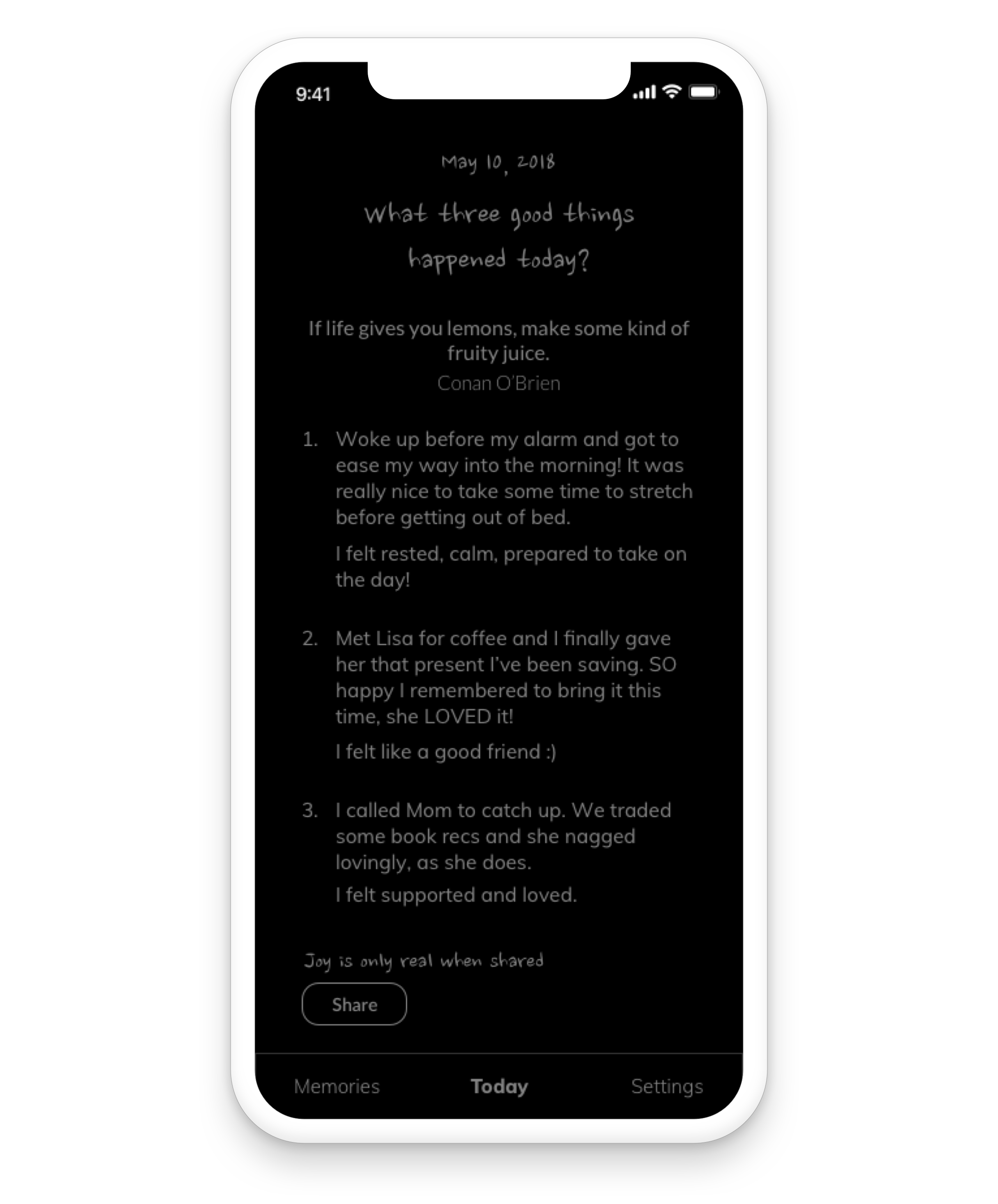 Reduce the glare from the screen with night mode. Bonus: listing 3 good things before bed improves sleep quality! 😴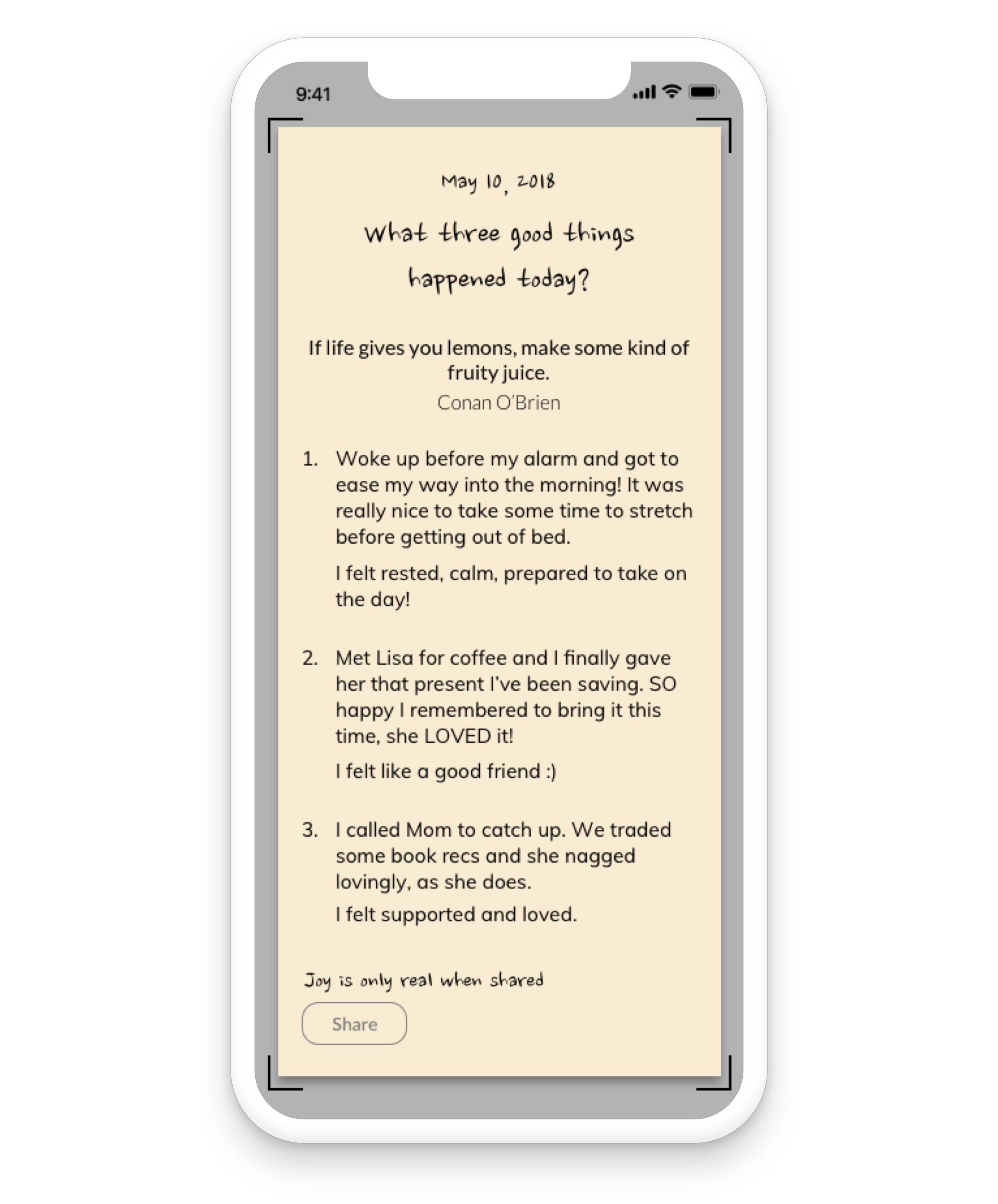 Screenshot everything you wrote into one image. 📷
Our "Share" button makes it easy to stay up-to-date with friends, family, and long-distance loved ones.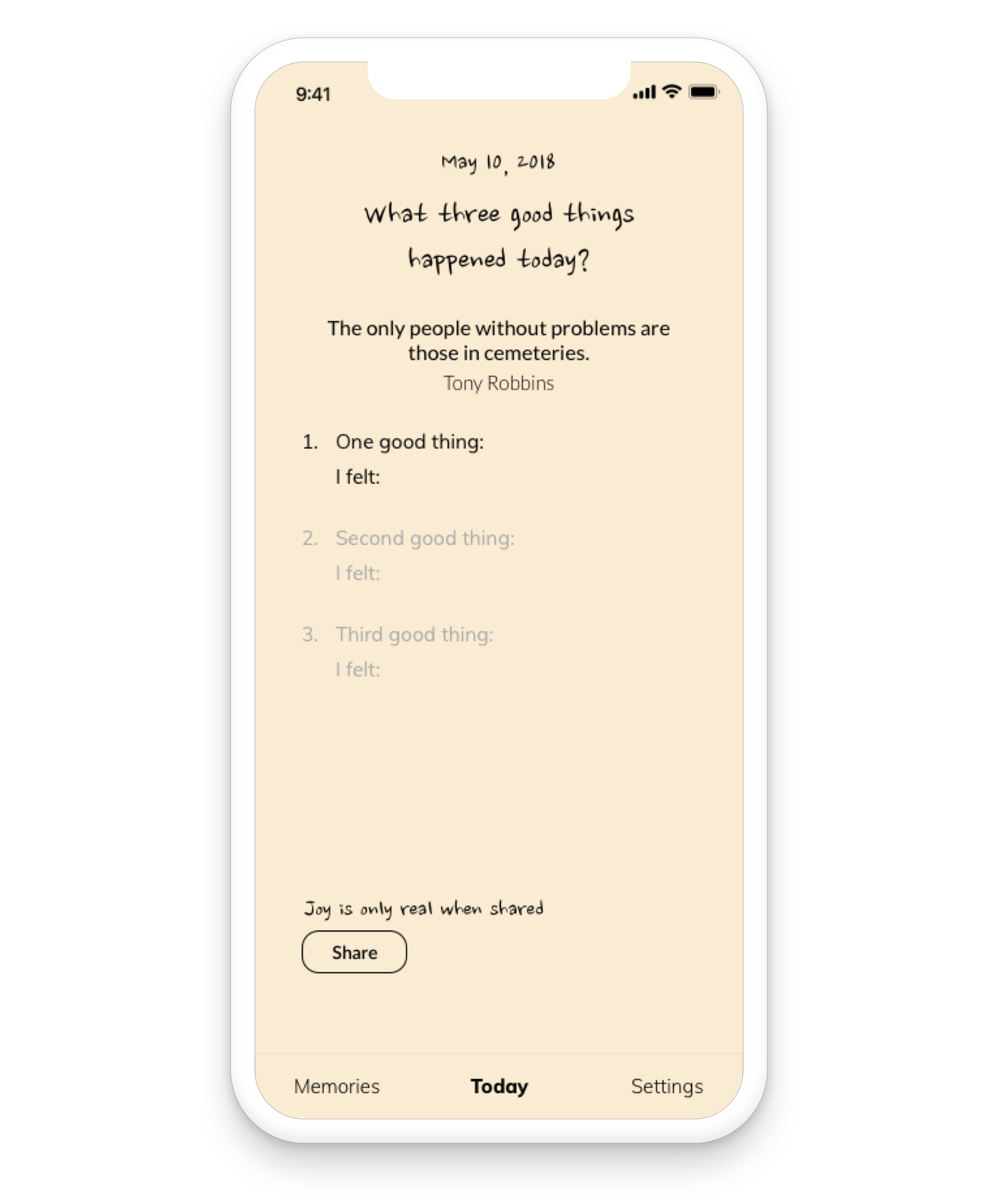 A quote to help you get started
Read a thought-provoking quote each day to spark some positive thinking! 💬
UC Berkeley and UC Davis launched a multiyear project on Expanding the Science and Practice of Gratitude. They found that people who regularly practice gratitude report:
Stronger immune systems

Lower blood pressure

Higher levels of joy, optimism, and happiness

Acting with more generosity and compassion

Feeling less lonely and isolated


When prompted to do so, you might be pleased to learn that even on your roughest days, you can find three things that are good in your life. ;)
Try it free.
Just to be clear, after a 2-week free trial, the app will cost 99¢/mo, varying slightly based on region! We're proud of our pricing and wanted to be upfront about it. :)
Stay well, darling.
We hope our apps help ease your road to becoming all that you are meant to be. 💃🏻